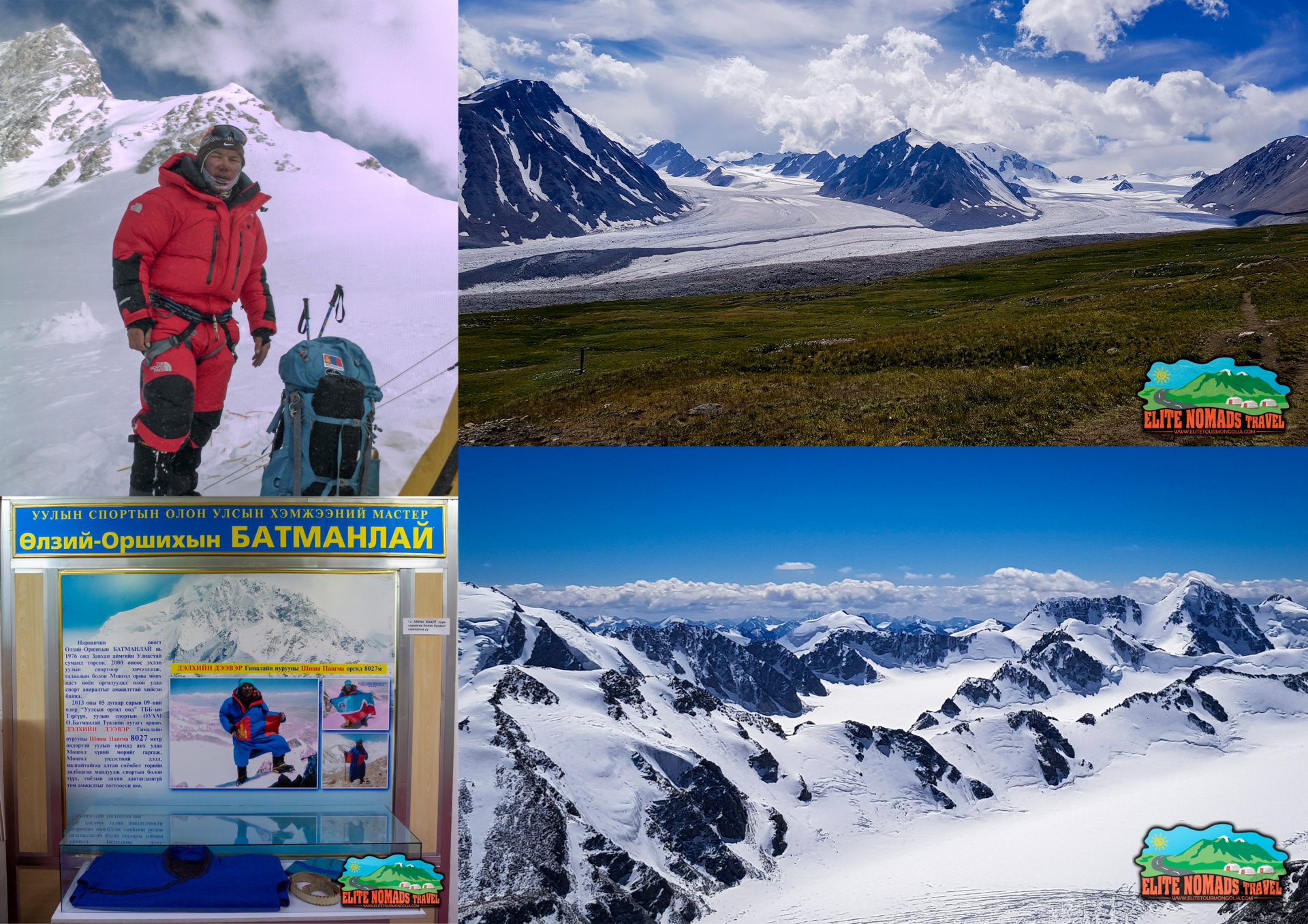 IN MOUNTAINEERING TOURS, THE MOUNTAIN GUIDE IS ESSENTIAL
The leader of our Mountain tour guides is Mr. U.BATMANLAI.
Batmanlai Ulzii-Orshick was born in 1976 in Uliastai soum of Zavkhan province Mongolia. He has been practicing mountaineering since 2000 and has successfully climbed many high snowy peaks in Mongolia and foreign countries.
On May 9, 2013, U.Batmanlai, the head of the "Uulsyn Orgil Uud" NGO and an international master of mountain sports, successfully climbed Shisha Pagma Mt 8027m (solo climb with no oxygen equipment) peak in the Himalayas in Tibet for the first time from Mongolia wearing Mongolian traditional cloth Deel and hat and raised Mongolian flag. He set a unique record in the sports, history, and culture of Mongolia. Mr. U.Batmanlai's traditional DEEL and hat he was wearing when he climbed Shisha Pagma is kept in the museum of famous people in Zavkhan province of Mongolia.
Mr. Batmanlai carefully checks all our climbing tours. As a professional, he leads our climbing tours, when to attack, when to not climb, etc... we are very proud to work with him, and our customers very thankful that such a professional guide leads our tours.
View Tours
HERE ARE THE MOST COMMON QUESTIONS asked by our travelers. If you cannot find your answers, please feel free to ask any questions via the Enquiry form or contact us on the Elite Tour Mongolia Facebook page and Instagram. We will email you back with your answers and will update our website for the other travelers.
ACCOMMODATION INSIDE THE CITY
On arrival day and before Departure, we will mostly stay Hotel in Ulaanbaatar. According to the Mongolian rating system, 4- 5-star hotels are approved to receive foreign guests.
What type of accommodation will we be staying in in Ulaanbaatar?
According to the Mongolian rating system, 4- 5-star hotels are approved to receive foreign guests. Our accommodations are carefully chosen, based on our research, our experience, and feedback from clients, to provide the best combination of high-quality accommodations, affordability, and convenient location.
We allow clients to choose your hotel from the following link 4-star hotels, 5-star hotels, and the best tourist Ger camps on a countryside trip.
Does the hotel staff speak English?
All staff working face-to-face with customers in 4-5 star hotels can speak English well.
What time can I check-in and check out of the hotel?
Generally, the hotel's earliest check-in time is 14:00, and the latest check-out time is 12:00 am at noon. When you need to check in early, please let us know in advance because the earliest check-in time is dependent on whether the room is vacant or not on the day when you arrive, and the late check-out time may charge extra money.
We are a family of 4 with two young kids. What type of room will we get for our Mongolia tour?
Hotels in Ulaanbaatar capital city of Mongolia, have a family room or can be separated into a twin room. Accommodation outside the city will be a traditional Mongolian ger with 2-5 beds to order accommodation by your choice.
What facilities and services do our hotels normally provide?
All hotels on your Mongolia trip have a Foreign Currency Exchange Service, a business center with access to the Internet and fax, postal service, gym, sauna, and massage service, and International Direct Dialing telephone in your room. You may also find a hairdryer, iron, converter, and adaptor (subject to limited supplies) with housekeeping. Some of the 4 and 5-star hotels have swimming pools.
Can I store excess luggage at the starting point hotel if we are returning there later?
Most starting point hotels can store your excess luggage for you free of charge.
Do I need to bring a power plug adapter when I come to Mongolia?
Keep in mind that Mongolia uses 220V electricity, which is higher than that western countries use. A power plug adapter will do a great favor if you want your electronic products to run properly during your Mongolia stay. What to do if you forgot to pack it in your bag? Don't worry. The adapter or converter is easy to get everywhere in Mongolia just by turning to your tour guide.
---
ACCOMMODATION OUTSIDE THE CITY
We will mostly stay in tourist Ger camp. Many visitors to Mongolia dream of spending a night in Mongolian nomadic family's Ger 'Live like a Local' when visiting the local family. There are several ways to experience Mongolian nomadic type of stay in the ger:
Tourist ger camp
Ger camp
Homestay nomadic family
Camping Tent, please be extremely clear about which option you would like when you book.
What is TOURIST GER CAMP?
Tourist Ger camp is traditional style accommodation with full-service facilities, most commonly used outside of the city. Many tourist ger camps have been set up specifically with the tourist in mind who wishes to try the local living style. Quite often located at the base of spectacular mountain ranges or in the heart of a dramatic valley, these Tourist Ger camps have been situated in key spots to make you feel like you live in the grasslands.
The tourist camps are a great option for those who still would like a few creature comforts of a regular hotel without going completely nomadic. The Gers are generally in a cluster together with 2-4 beds and furnished with a table, chairs, and wood-stove. Most visitors prefer to stay in Ger, which provides an authentic taste of Mongolian culture and adventure, their most enjoyable Mongolia experience.

One benefit of the tourist Ger camp is that there are hot showers available and flushing toilets, not in your Ger of course, but only a short walk away. This is one of the main creature comforts of the tourist camps. In the colder months, the staff will light fires in each of Gers summer stoves that will keep you warm and toasty as you fall asleep. You need to tell the time for fire a stove (suggested times evening around 22:00 and in the morning 05:00.
Some have a generator or mains electricity although not all have power sockets in the Gers to charge electronic equipment you always can charge your phone or electric equipment in the evenings from 18: 00 o'clock to 23:00 at the desk of the restaurant or Our vehicles has equipped with 12v USB for smartphones, or anything can be chargeable from USB port 1.5a, 2.1a, and 220V electricity output while driving.

Food - Tourist ger camps have restaurants Vegetarians can be catered for although choices may be limited - please let us know if you have any specific dietary requirements at the time of booking. Breakfast, lunch, and dinner are provided each day until our return to Ulaanbaatar. Most of the time we will eat at the tourist camp restaurant.
---
What is GER CAMP?
Quite often, nomadic families have an 'additional' ger in their cluster specifically built for tourists. Although you will still be staying in a true nomad camp, the actual Ger you will be sleeping in has been created purely for tourists.

Toilet& Showers - if you are staying in ger camps, then there are hot showers and flushing toilets are not available, ger camps and local nomadic family homestay has Pit toilet.
Food – there are no restaurants in Ger camp, depending on the tour you choose our cook will cook for you or nomadic family that owns ger camp will cook for us.
---
What is HOMESTAY IN LOCAL FAMILY?
If you really want to experience a Mongolian nomadic family's life truly traditionally realistic experience, stay with a nomadic family who is not equipped for tourists. There is no additional ger for tourists to stay overnight; you will share 1 ger with the local family.

Toilet& Showers - if you are staying in a local nomadic family homestay, then there are hot showers and flushing toilets are not available, ger camps and local nomadic family homestay has Pit toilet.
Food - there are no restaurants that would be available in the nomadic family homestay. Depending on the tour you choose, our cook will cook for you or cook with a nomadic family.
---
What is CAMPING in TENT?
We use camping tent & equipment for our remotest tour, fishing tour, mountaineering tour, extreme 4wd offroad tour, and photography tour where there are no tourist Ger camps or local hotels. Mongolia offers fantastic camping possibilities in beautiful landscapes.
We provide our guests with high-quality 2-3 people's tents, mattresses, and other necessary camping equipment on all of our camping trips. No formal toilet or shower facilities will be available. You will use a sheltered hole for a toilet and sheltered shower. Also, we will provide you with water for washing up on camping days. We usually send support vehicles with the cook on tour with tents.
If you wish to cook yourself, please mention it when you book a tour or our guides and drivers can cook. All our guides have had basic cook training, but not all of them are great chefs, so if you feel like it, they will be happy to let you assist them. There will be dried and canned foods available on expeditions where there is no vehicle support, but fresh fruits and vegetables often cannot be transported beyond the first couple of days.
For groups of more than 6 travelers, we usually send a cook, which in this case you shouldn't worry - the food will be just great! Please let us know if you have any food preferences or restrictions or follow a special diet.
WHEN IS BEST TIME TO VISIT MONGOLIA
The best time to visit Mongolia is during the Mongolian summer, from the mid of June till last week of August. This is the safest time of the year to travel to Mongolia in terms of weather, sunny days throughout Mongolia and sufficient rainfall to make the steppes lush and green.

June and September are both very pleasant times to visit Mongolia. September, autumn is enjoyable, colorful, not hot, and not cold. Nomads have plenty of dairy products and are busy processing milk and preparing for winter. The beautiful countryside of Mongolia is even more beautiful and picturesque with the autumn colors.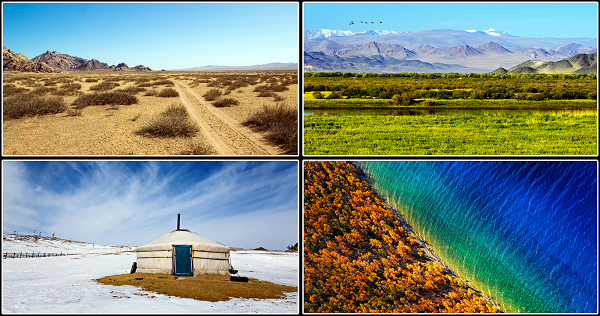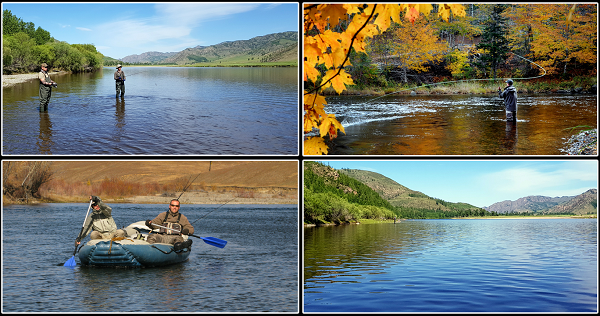 WHAT IS BEST TIME FOR FISHING TOUR
Fishing season opens every year 15th June best time to visit Mongolia for fishing is from 15th June to 10th Jul / on 15th June just opening season the rivers in Mongolia is untouched for an 8 months best bite / and from 10th Jul to 20th Aug is quite risky because of raining season, rivers may be flooded or watercolor would not be a clear
What are months in Mongolia consider green Peak Season (High Season), Shoulder Season, and Low Season?
Generally and traditionally, the Peak Season refers to July and August; the Shoulder Season refers to May, June, September, and October; the Low Season refers to January, February, March, April, November, and December.
View Tours
WHAT TO EXPECT FROM SELF DRIVING TOUR &EXTREEME 4WD OFFROAD TOUR
Self-Driving tour
Most of our privet tours can be tailored with your request or already tested Self Driving tours, difference of self-driving tour and privet tour is you have opportunity drive 4x4 SUV yourself during your tour to Mongolia. On a paved road, our driver will drive. You will drive on an unpaved road. Our driver will be assisting you during your tour so if get tired of depending on road condition if don't feel like driving there will be our driver assist you and drive for you.
Extreme 4WD Off-road tour
This tour is for extreme adventurers who wish to challenge yourself to drive thru untouched land of Mongolia driving a special designed /upgraded/ 4x4Offroad race car with 4x4Offroad equipment's, our co-driver will always assist your and our mechanic will check the car every morning before your day begins. Road condition will be Forest Mountains, Muddy roads, Crossing Rivers and Hill Climbing etc... This special tour will be related to special interest 4wdOffroaders and those who wish to challenge yourself to go get to the destination that no other tourist even most Mongolians can't reach. For a safety on this kind tours, we usually send 2 support 4x4 vehicle and satellite phone and cook.
View Tours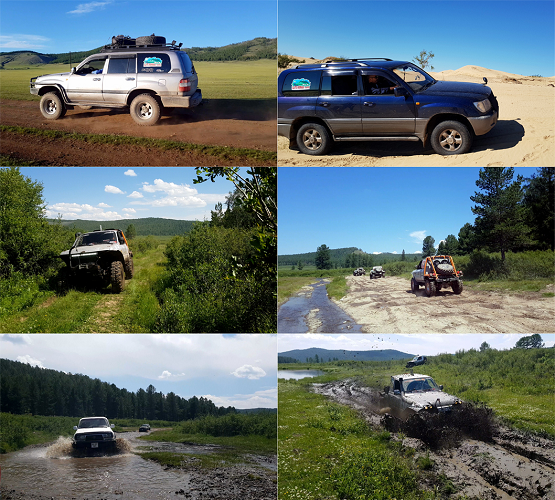 What is the best time to visit Mongolia for Extreme 4wdOffroad tour, Self-driving tour?
For Self Driving tour - any season is good it depends on what kind of Self-driving condition you wish to be in /driving in Gobi, Mountain, Rocky, Sandy, Snow, Mud e.c.t.… /
Extreme 4WD Offroad tours - summer tours will be 1st June to 1st Oct and winter tour 10thDec to 10th march
WHAT MEAL IS INCLUDED? WHAT IS THE RESTAURANT LIKE:
What meal is included? What is the restaurant like?
We select restaurants based on our experiences, client satisfaction, location, and cuisine. Normally we include three meals (breakfast, lunch & dinner) each day during the whole trip. In Ulaanbaatar, you can expect a good variety of quality restaurants with international foods.
Breakfasts usually are served in western style at the hotel where you stay in Ulaanbaatar. We mostly use following restaurants for lunch & dinner in the city trip: "Modern Nomads", "bd's Mongolia Barbeque", "City Nomads", "Khaan Ger" and hotel restaurants for dinner where you stay. Lunch & dinners are m& served in Western food, and sometimes Mongolian food, or a combination.
Outside of the city we generally eat breakfast and dinner in tourist Ger camp and some day of longer trip take a packed lunch. Your packed lunch will be carried in appropriate containers to prevent spillage or spoiling. Ger camps serve both Mongolian and international foods, and there will usually be a choice of the main dish.
Any problem for a western tourist in Mongolia?
Mongolian and Western cuisines are both available throughout Mongolia. If you require special meals due to religious or medical limitation, please inform us so that arrangements can be made in advance.
Will you provide vegetarian (including no chicken/seafood) meals for me?
Make the arrangement according to your requirements. So if you have any special requirements on your food, please let us know so that we can inform the restaurants beforehand to meet your needs.
HOW TO PACK FOR MONGOLIA TRIP
What gift would you recommend for us to bring to Mongolia?
Our tours designed to enhance your learning, discovery, and people to people experience. For instance, all of our tours include a home visit in nomadic families and explore their daily lifestyle. If you would like to bring some gifts to them, suggested items include Swiss pocket knives, flashlight for man, some candies, small toys, crayons/color pencils for housewife and kids are just as fine. Whatever gift you choose to present, the recipient will be most grateful.
Can I bring my laptop, iPad, or iPhone when traveling to Mongolia?
Internet access is available at almost all hotels on your Elite Tour Mongolia travel itinerary. In most of the hotels, you can access free Wi-Fi internet. Outside of the city, some of tourist Ger camps offer little charged or free internet access. So you may want to bring your own laptop. We recommend you bring a converter to Mongolia. As throughout Mongolia, the AC power standard is 220V/50Hz. So you may use the converter for the 110-volt electrical appliance. Usually, the four and five-star hotels provide adapters, but we still suggest you bring a converter.
What are the appropriate clothes for travel in Mongolia?
Mongolia is a vast country with various climates and four distinct seasons. Thus traveler may need to pack different clothes at different seasons. But weather patterns at any time can change rapidly. One minute you're walking around in a T-shirt and sandals, next you need an overcoat and boots, then its back to T-shirts. This is especially the case during autumn and spring. suggest you check the climate of your travel season, month and then choose the appropriate clothes. In most cases, you will not need to bring towels as you will be provided in the hotels and tourist Ger camps. In general, you should take the easily dry clothes and prepare the umbrella for a rainy day. In addition, we suggest you also bring along a first aid kit with the commonly used medicines.
WHAT IS MONGOLIAN CURRENCY?
What is the Mongolian Currency?
The official currency is the Tugrug (MNT=₮). Denominations come in 20.000₮, 10.000₮, 5.000₮, 1.000₮, 500₮, 100₮, 50₮, 20₮ and 10₮. Visitors are advised to carry credit cards - Visa, MasterCard, American Express and Union Pay-- and traveler's checks that can be accepted by most hotels and major stores and can be exchanged for cash of MNT.