TRANS -MONGOLIAN TRAIN TICKET BOOKING SERVICE
Trans Mongolian section of one of the world's great train journeys - the Trans Siberian Railway goes through Russia, Mongolia, and China. It is the last great train route via three countries and seven time zones from Moscow to Beijing for 9000 km and 6 days.
Below we list the best trains along the Trans-Siberian railway. You should book your train ticket earlier than 30 days before the departure. Train times and prices are always changing, so we don't guarantee that the information below is 100% correct. If you need the actual quote, please, use the inquiry form below.
INTERNATIONAL TRAIN SCHEDULE (Last Updated: 10 JAN 2018)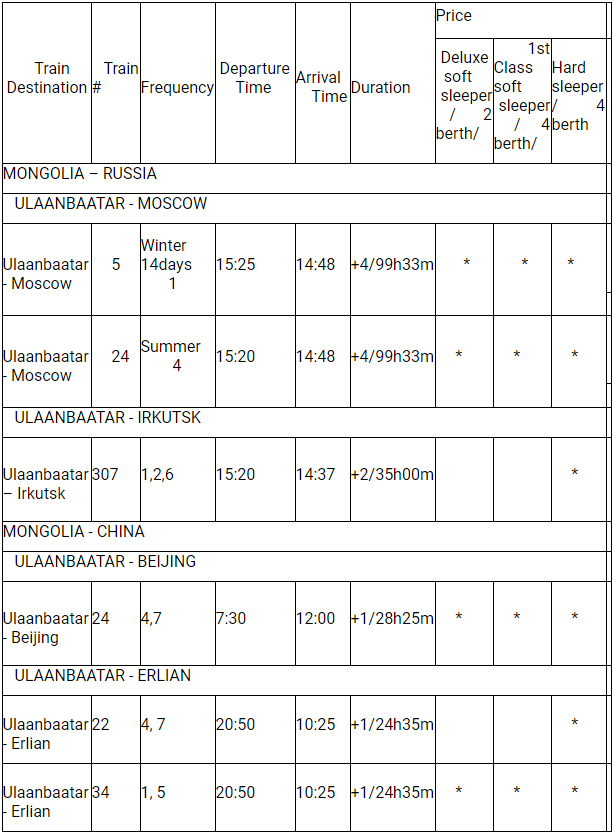 WHAT TO EXPECT ON THE TRAIN
Food and Water: You will find a samovar with boiling water on one end of the car, usually opposite the attendant's compartment. If you bring your own water bottle, you can also refill it with drinkable water from the attendant.
While food is available for purchase in the dining car which is located in the middle of the train and from vendors roaming the halls, it can be overpriced and the selection may be limited. Almost on every station, local people sell inexpensive and nice home-made food, so you won't be hungry. You may be better off bringing your own provisions, especially for a multi-day journey.
Electronics: Outlets for charging cell phones and the like are available in the hallways. Most carriages have fold-down seats so you can sit with your device as it charges, although it was not uncommon for people to leave theirs hanging unattended.
Toilets: Each carriage has a toilet on each end and they will be locked shortly before, during and shortly after most station stops (and border crossings if you're heading into China or Mongolia). The toilet doors usually have a schedule showing these closures.
Shower: There are showers on the Russian trains but not the Mongolian or Chinese trains. On the trains that have showers, they can be found in the service wagon, which is adjoined to the restaurant car. It's advised to take your soap, towel, and flip-flops.
Luggage: There is plenty of space to keep your luggage in the compartment, either in an overhead luggage storage area or under a bed.
Money: Payments on board of the train are made in local currency only. Normally, you may be able to change US dollars in the train (conductor will do it or will find a dealer for you), but the rates are very low. So, it's better to have some local currency (Russia - rubles, China - yuans, Mongolia - tugriks) and the whole sum in US dollars. Dollars are very easy to exchange in Russia, Mongolia or China.
Safety and security on the train is a real priority. Every wagon has one or two staff members who check the tickets, do the cleaning, take care of boiling water, and so on. Also, the cabins can be locked from the inside and can only be opened from the outside with a key, so your luggage is always safe when you do venture out to explore the train.